2022 Trail
Yes, the real trail is on and confirmed for next year 18th – 19th June 2022. We have moved from the planned Easter weekend to the summer because we anticipate more of the event taking place in the open and we don't want to freeze! Our existing artists are already registering their places and marquees and other venues are being organised. There'll be plenty of other events too that weekend with at least one very sought-after band already booked, and a great selection of food and drink. Watch this space for plenty more news.
Print Workshops with Karen Logan
November/ December Workshops
Try your hand at mono/poly block printing and lino cutting and printing.
Find out more…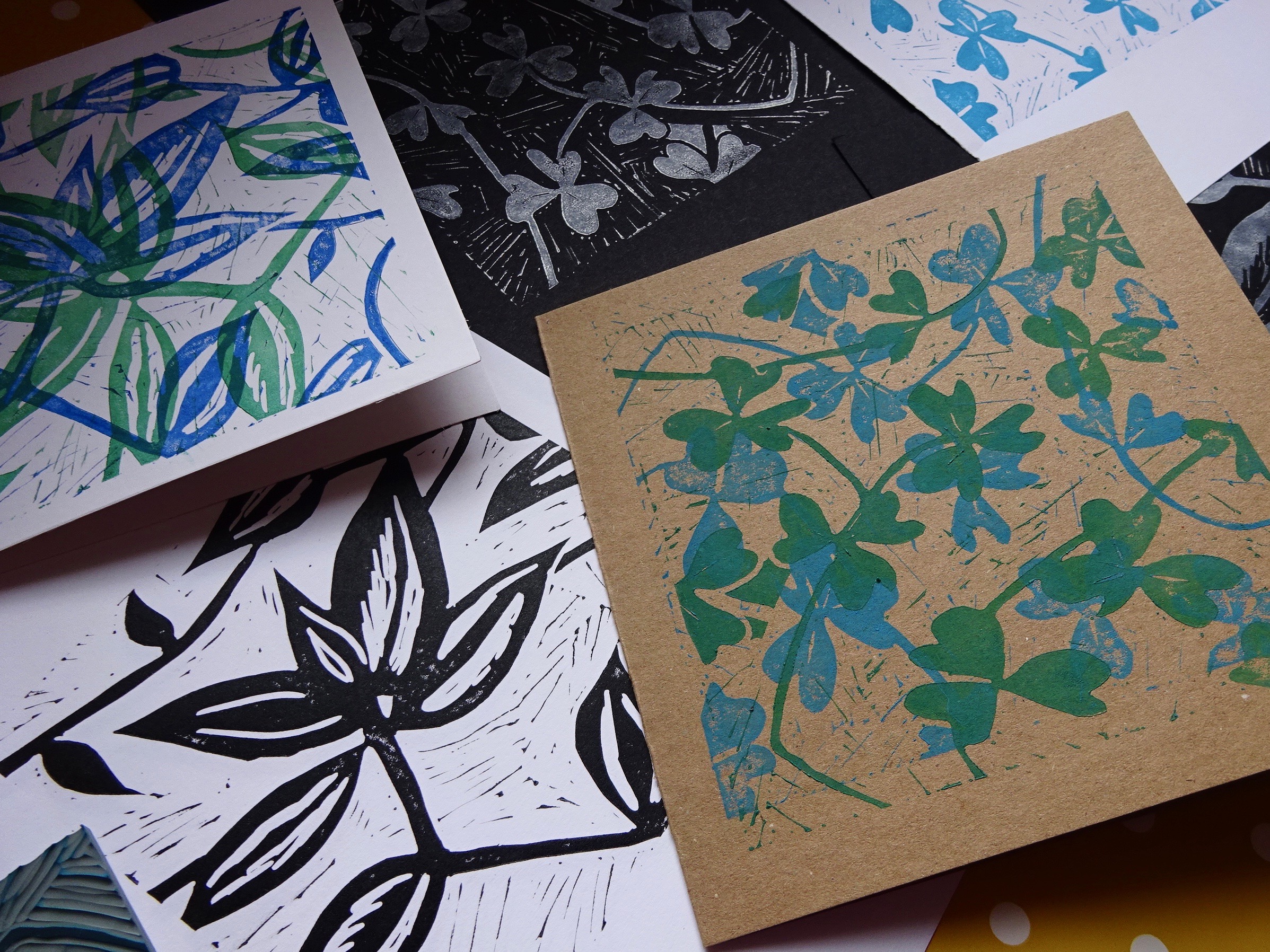 Bonsall Arts Trail Book
Ready to order now
92 full-colour pages, featuring 39 of our trail artists. In premium velvet feel soft cover, printed on paper sourced from FSC certified suppliers. Initial run is for our artists at a special low price (£10.90 including P&P). The covers feature specially commissioned artwork commemorating the UFO sightings for which Bonsall is famous.

ISBN: 9781399904704
2022 Trail Membership
EXISTING ARTISTS
Existing artists will not have to re-apply through CuratorSpace. Instead we will be asking for a £40 annual subscription. This will cover your exhibition fee for the 2022 event as well as any activities you would like us to promote throughout the year. 2020/2021 saw our popular artist of the week promotions on Facebook and our website, as well as our hugely successful online shop, but we're sure that there's many more ideas out there.
So for existing artists – if you'd like to join Bonsall Arts Trail Association for 2022 we will need £40 by the end of November 2021 (link below). This would represent your annual membership sub for 2022.
Pay 2022 Sub Existing Artists
NEW ARTISTS
We will soon be opening applications for new artists. Applications will cost £10, and if accepted we will ask you for a fee of £40 to cover the trail exhibition and all the other Bonsall Arts Trail community activities for 2022. Details here soon.
Bonsall Arts Trail


Bonsall Arts Trail is an annual curated arts trail for artists from Derbyshire and surrounding counties held in the beautiful Peak District village of Bonsall. Its inaugural event in 2020 was postponed due to the crisis, however was back in virtual form during Easter Weekend 2021 as an online shop with over 40 professional artists and almost 1000 works on sale. Now we're going to be back in physical form in 2022!
Each one of our artists is featured weekly as Artist of the Week, with plans to have artists featured in a video are underway, but in the meantime we are pleased to announce the publication of our Bonsall Arts Trail Book. Available to buy now – see above.
Meanwhile there's lots more news coming up, so do visit this site every week and our Facebook and Instagram pages as we regularly update and feature the work of our artists.
Karen Logan
Welcome to Inkling Print workshops with artist Karen Logan at Strutts Community Centre in Belper
Come along and try your hand at mono/poly block printing and lino cutting and printing and have fun creating unique cards and art. The workshops have a maximum of four leaners so you can enjoy your own table and equipment, lots of individual attention and space to feel safer in these Covid times. There are two sessions in December with the focus of cards for the festive season.
Suitable for complete beginners, all materials and equipment provided and at an introductory rate of £40 I hope to see you soon.
Click for more details
e: kallogan@hotmail.com
i: karen_logan_art
w: www.karenlogan.com
With continuing thanks to our sole sponsors