Shortlisted
Amanda Graham
From the Earth, to the Earth…
This neckpiece is made from recycled sterling silver and gold, and bits and bobs from my 'scrap pot', and is set with ethically sourced semi-precious and precious stones. All materials in the piece are products of mining ores and minerals from the Earth at one time.
The inspiration for the piece arose from my thoughts about our local industrial heritage. This dates back to the establishement of Arkwright's mills in 1790, to quarrying – the most prolific industrial acivity in the area today.
Across the county, plants and wildlife have gained a foothold in many disused industrial sites, with the arrival of new species. To support wildlife diversity and re-establish endangered species, such as the Great Crested Newt, Longcliffe Calcium Carbonates have worked in partnership with local wildlife agencies to create nature reserves from their long disused quarry sites.
The textures applied to this piece, shown in detail on photograph 2, reflect the production of fine gravel from what starts out as large blocks produced by blasting. The enamel components depict the environmental reclamation of sites such as Hoe Grange and Ryder point, by plant life.
The citrine stone (photograph 3) and the oxidised silver black finish are indicative of the black and yellow colouration of Great Crested Newts, that are now breeding successfully at Longcliffe's Ryder Point Reserve. Other stones, and the pearls, have been selected by referencing the colours of Hoe Grange's 28 species of butterfly, such as the Common Blue. I've chosen the two opals because I've always loved peacock buttterfies. These have established themselves successfully at Hoe Grange, and the opals' irridescence so closely matches the colour of Peakcock butterfly wings 'eyes'.
The overarching theme of the piece is the inevitable reclamation, by nature, of old industrial sites where opportunity arises. But people engaged in wildlife conservation play a vital role in supporting species diversity, where many different species can coexist at one site to develop sustainable ecosystems for future generations.
Shortlisted
Ruth Gray
Middleton Top. The painting is acrylic on canvas board 20 x 50 cm and is part of a series celebrating the High Peak Trail which of course was a railway linking the quarries to the canal and now is reclaimed as a trail for all.

Shortlisted
Julie Leggett
Solar Flight
Collage and mixed media
A contemporary view
74cm x 47cm
The blending of the landscape creates biodiversity of the land from quarry to creation of fertile ground providing habitat for butterflies, newts and birds in sensitively created Hoe Grange nature reserve. Longcliffe' s environmental standard is depicted which incorporates a big percentage of their operational electrical supplies using wind turbines and solar energy.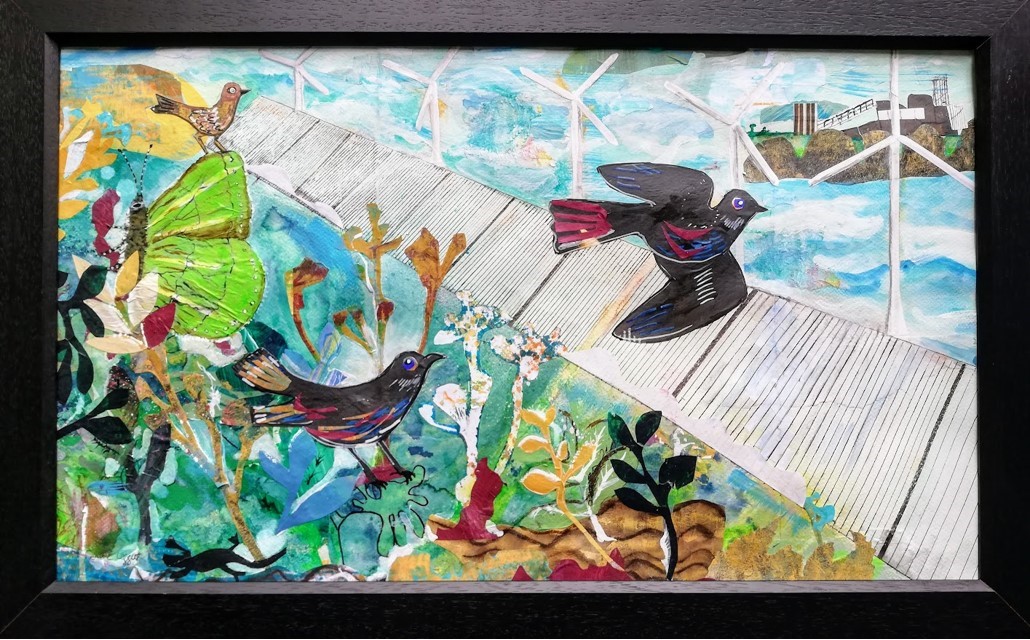 Shortlisted
Sarah Parkin
'Wild Claim'
With May Butterflies
Hoe Grange Nature Reserve
Watercolour
Image 90x43cm
Main picture plus 2 details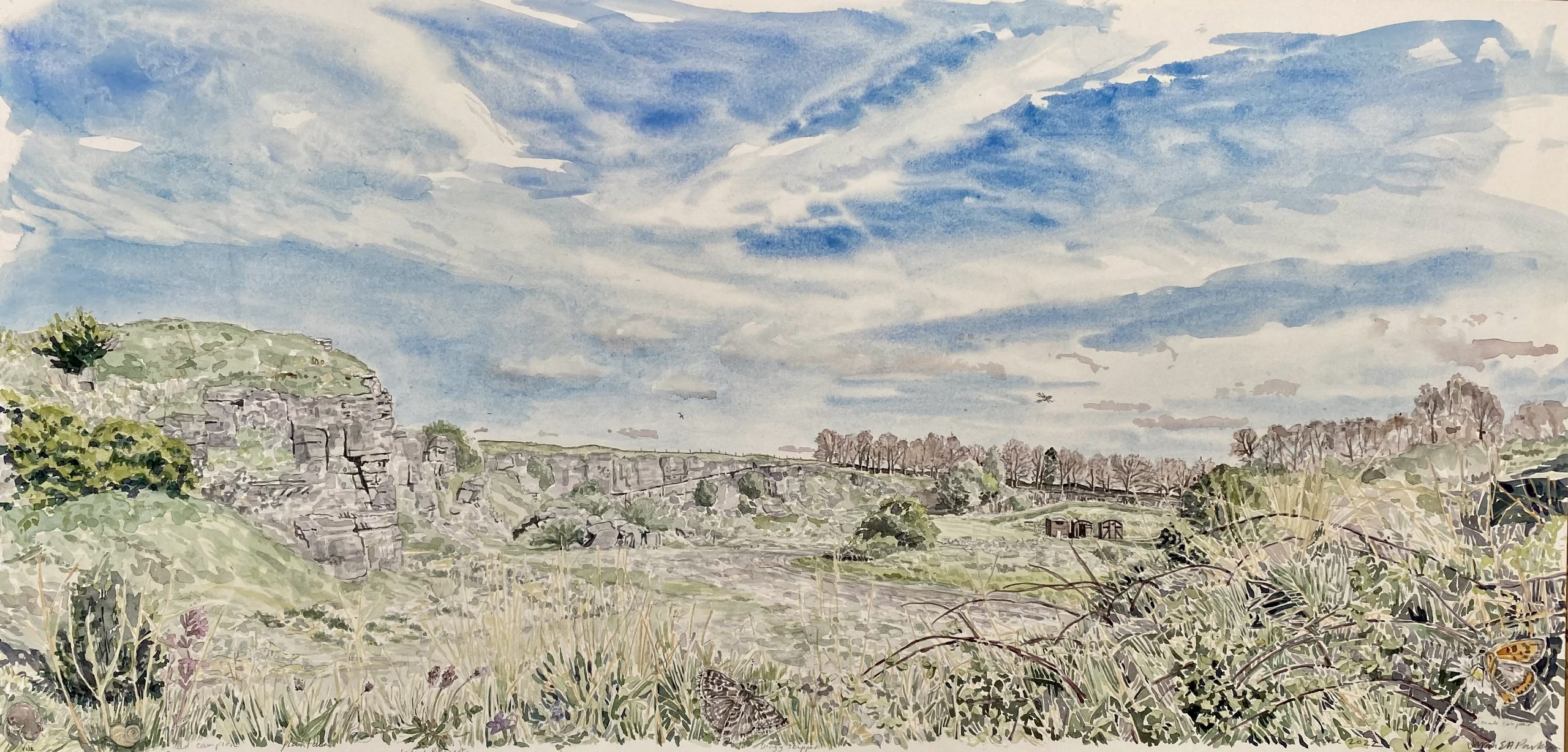 Shortlisted
Chris Tkacz
Oil on canvas : 'The Sun will shine and the wind will blow'
Nature will always re-emerge whatever Humanity does!
Belysning
Acrylic paint and calcium carbonate mixed to create chalk paint.
A re-imagination of a photo I took at Dewsbury Country Park. This is reclaimed land from a former Landfill site.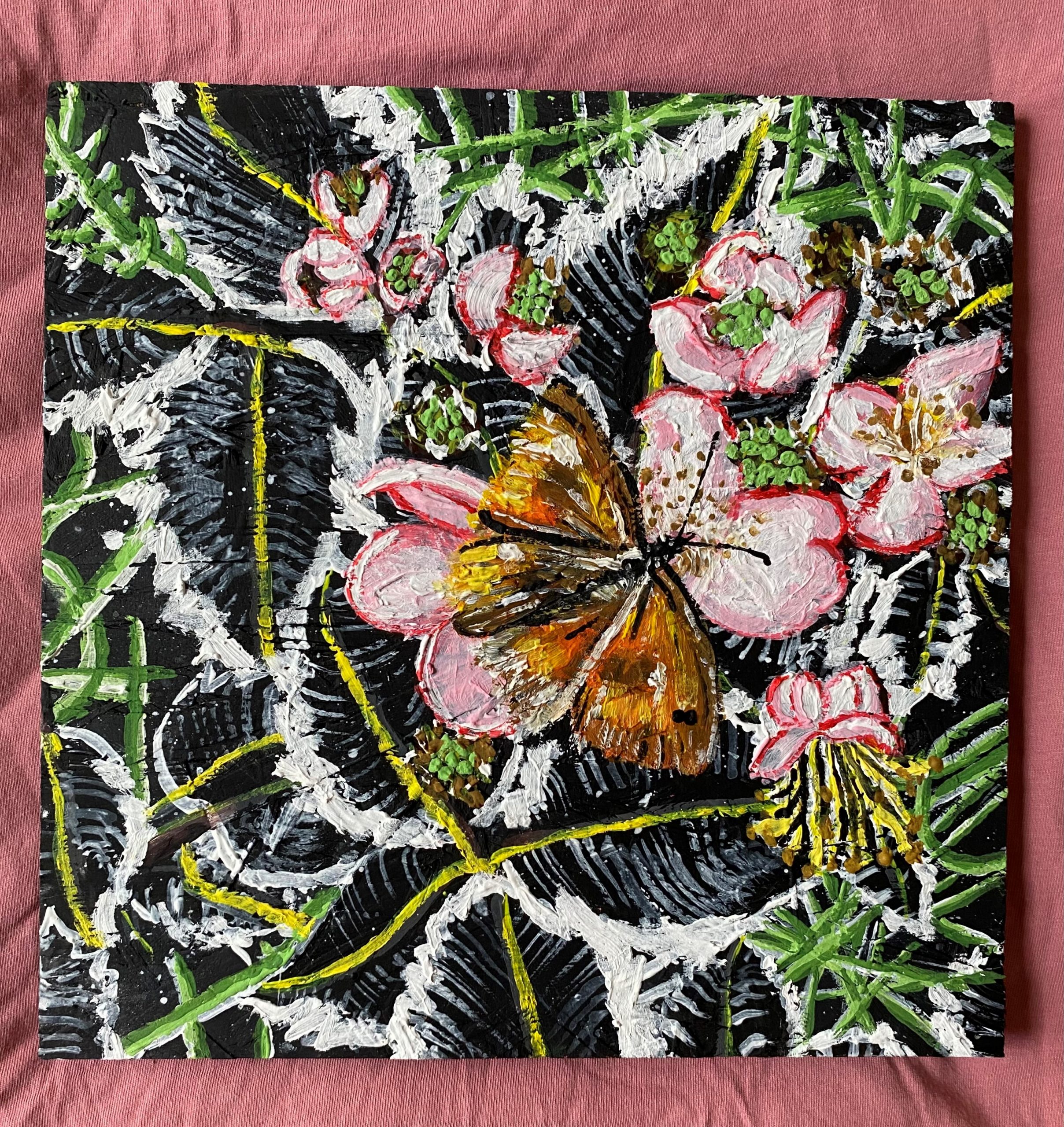 Bob Bernard
Back to Lawrencefield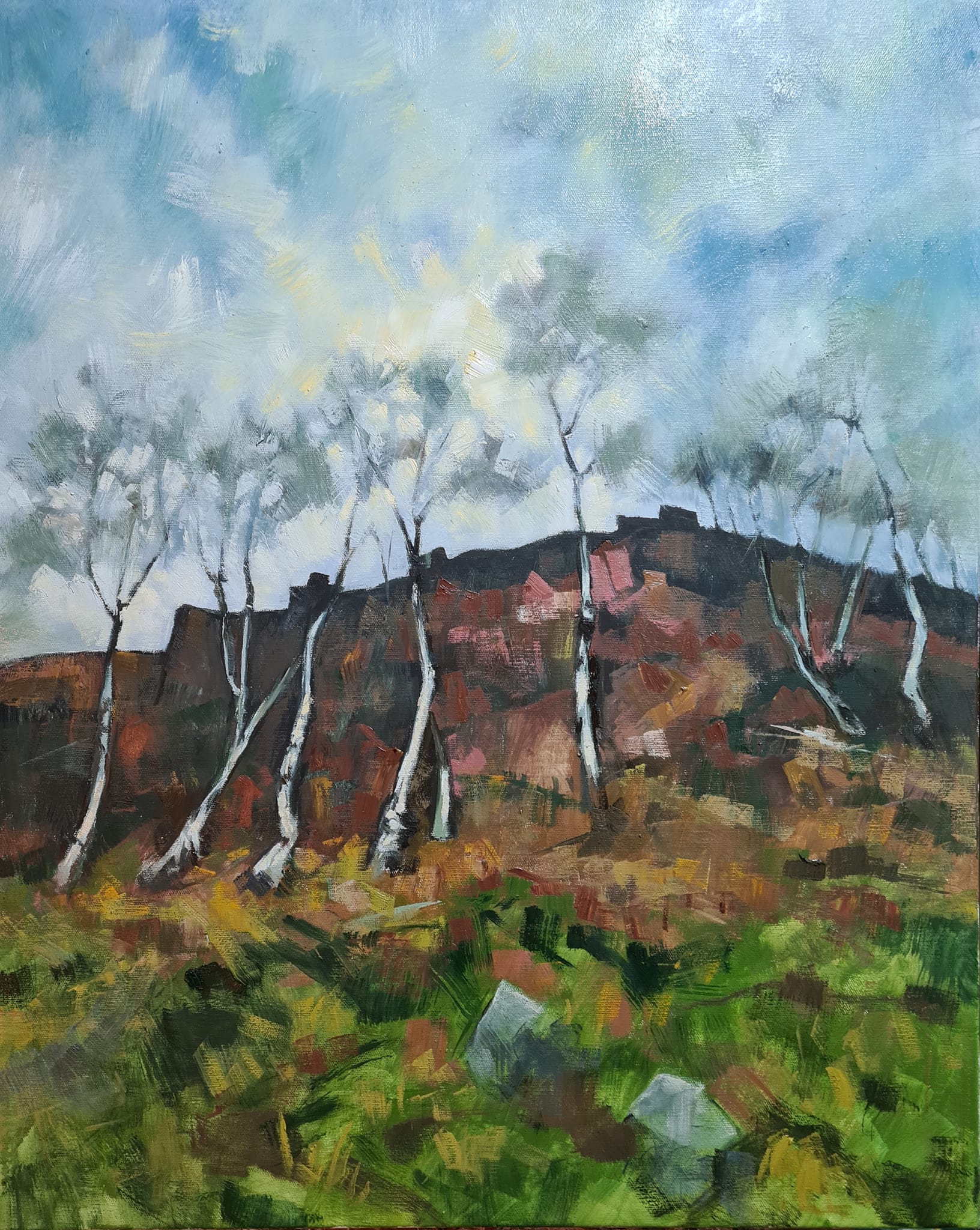 Lor Bird
Via Gellia 2
The pieces reference environmental reclamation in two ways. Firstly the texture in the pieces were created from recycled plastic. This series of work is from a period when I was trying to incorporate recycled materials within my work in response to the climate emergency and the harms caused by over consumption of plastics. Secondly the Via Gellia has strong links with the industrial revolution and mining yet retains a sense of the wild, showing the resilience of nature in spite of human activity: the environment will, given the chance, reclaim itself.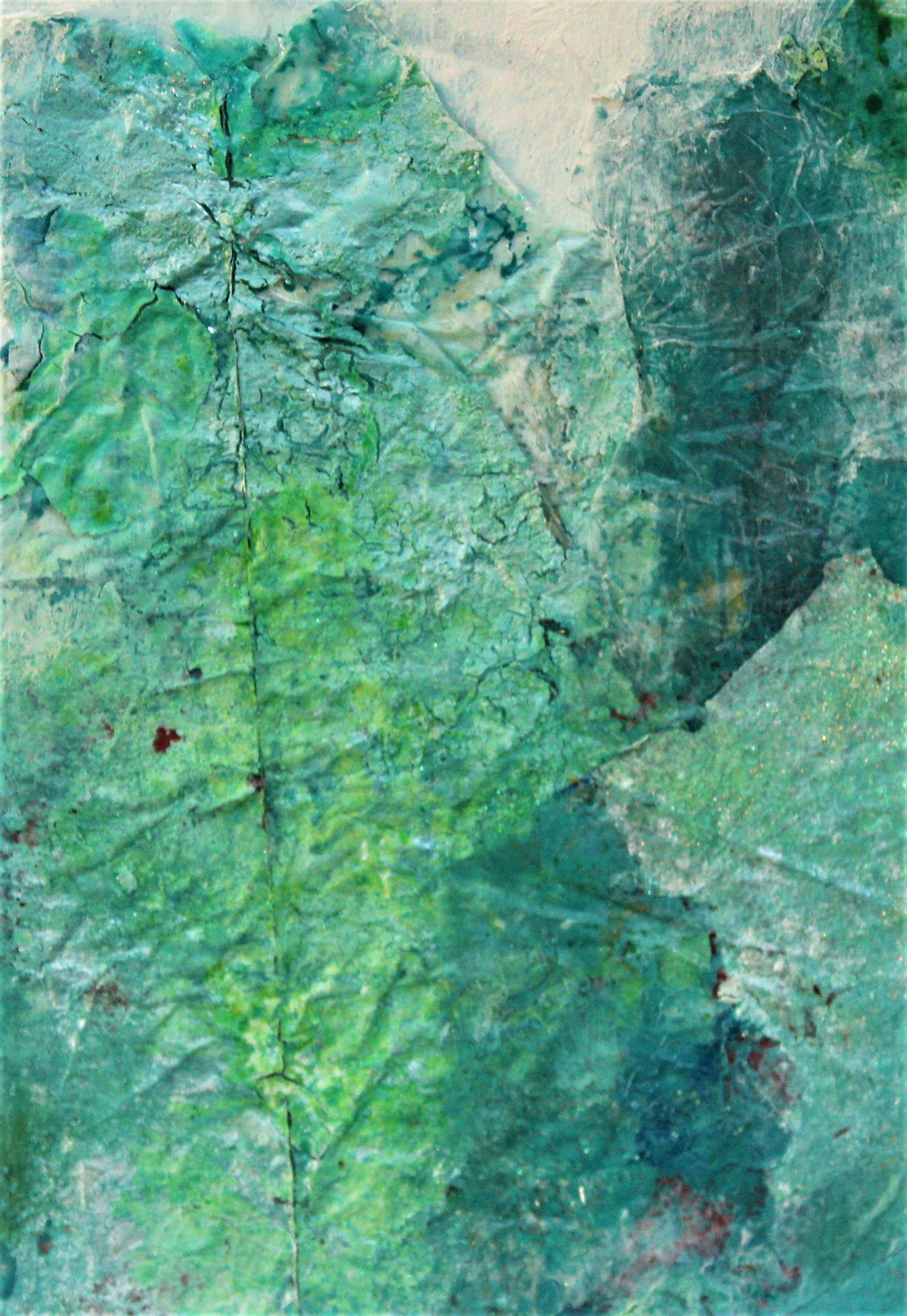 Deborah Frith
I did this painting in 2009 about the problem of fly tipping. This is an image of a dump in my local area beauty spot and I was trying to highlight the message of how it is a problem. Since then with the interest in the local environment people have become much more aware and are now tackling the problem.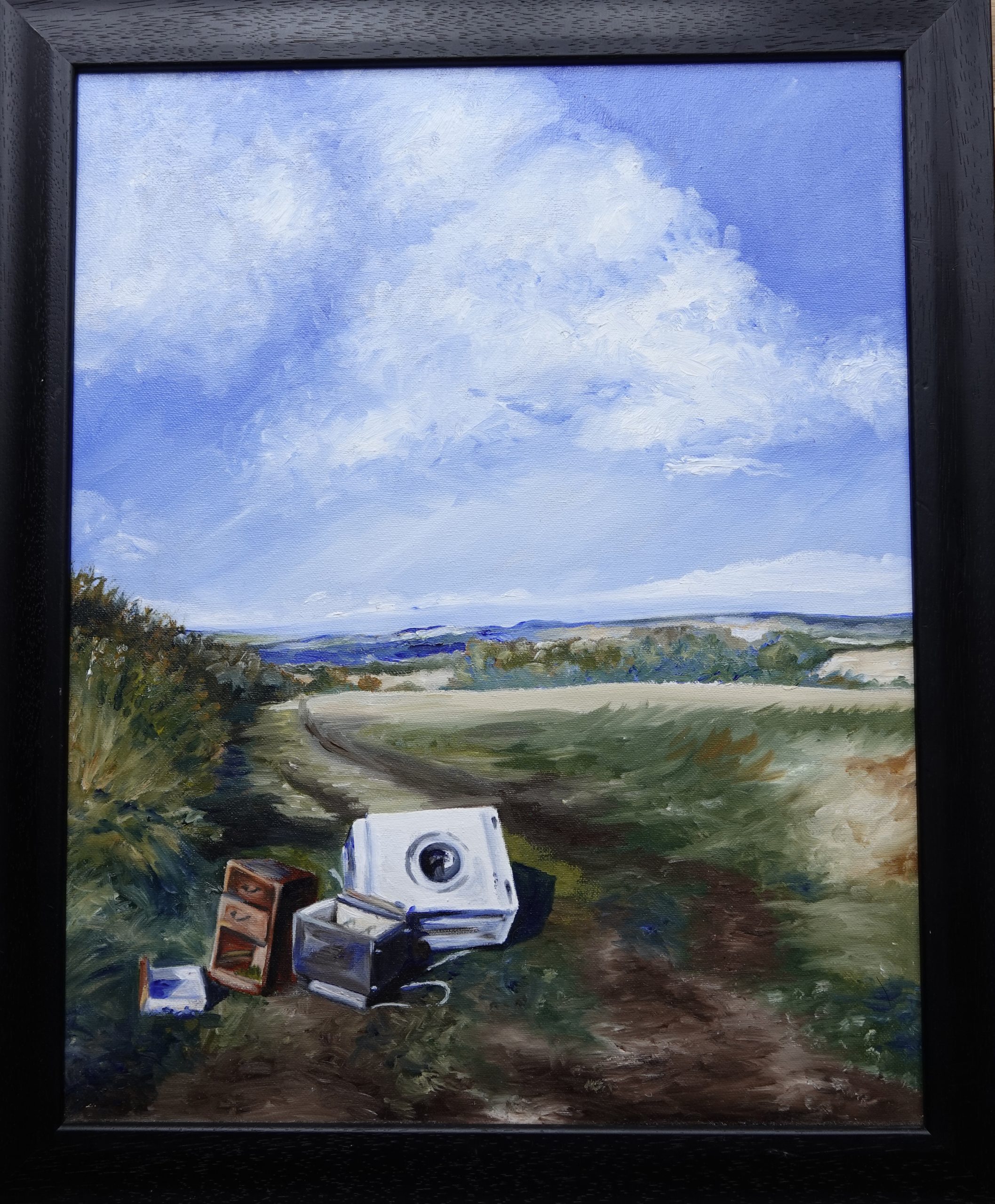 Erica Just
One person's waste is another person's treasure. Handmade plant papers using a variety of fibres. Waste and off-cuts donated and collected from gardeners, allotments, market stall holders, makers using natural materials.
Some of the papers are a mixture of fibre and recycled paper, and others pure fibre. Resulting in natural textures, colours which are intrinsic from the plants. Papers are then used in making various products.
Example of Fibres used
Bracken
Iris leaves
Onion skins
Banana skins
Broad bean pods
Rush
Willow bark
Alison Wake
Winter Jewels in Ruby Wood. Image size is 70 x 160mm
Ruby Wood near Hartington Station on the High Peak Trail was planted by the Peak District National Park in 1991 to celebrate the Ruby Anniversary of the park's inception. With its variety of native tree/shrub species including Lime, Rowan, Ash, Guelder Rose and Hawthorne, it provides a habitat for wildlife throughout the year. In 2015 the PDNP started its Small Woodland Creation Scheme, establishing new woodlands (often by reclaiming former rubbish tips or quarry sites) as well as l protecting and maintaining existing areas. Thirty years on Ruby Wood is an excellent example of what can be achieved in a relatively short time.
Karen Williams
My sculptures are all made from recycled materials,old socks t-shirts etc, for example this faeries dress was made from my grandsons old airtex school shirt. I treat the material with a special resin that hardens and weatherproof the material , making them suitable for both home and garden. I take much joy in creating a work of art from what people would just throw away.